vBoxxCloud iOS New Release: Touch ID and Face ID
vBoxxCloud for iOS just added the ability to use biometrics on the passcode screen rather than entering a passcode manually. This means you can use either the Face ID and the Touch ID features of your iOS device. While biometrics are convenient, the device sensors have some limitations. (If a user is wearing gloves for Touch ID or when the front camera view is unclear.) For those situations, a passcode is an alternative option. Users are still able to use the passcode separately from biometrics. 
1. To set up biometrics unlocking on a device, navigate to Settings within the vBoxxCloud application.
2. Find the new section Use Biometric Authentication.
3. Enable biometrics authentication by tapping on the corresponding toggle switch.
Note: If multiple users have configured biometric parameters on one device, they are able to unlock the app. A warning is displayed when setting up the biometric authentication.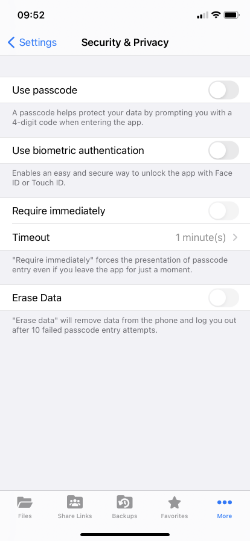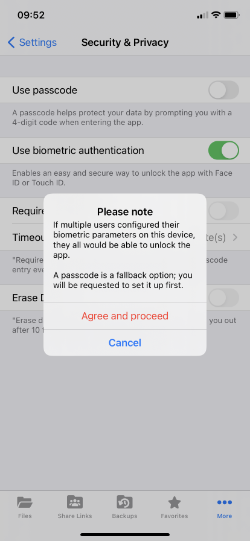 4. To help users configure Touch ID and Face ID, the app will guide them through the configuration steps. Depending on the device and settings, users will be presented with the following steps: 
Set up a passcode, if one wasn't set up previously
Provide system permissions for the app to access biometric authentication
Confirm the biometric sensors are working as expected. 
Once the user completes the configuration steps, they'll be able to unlock the device with Touch ID and Face ID.